About Sharon
Artist Statement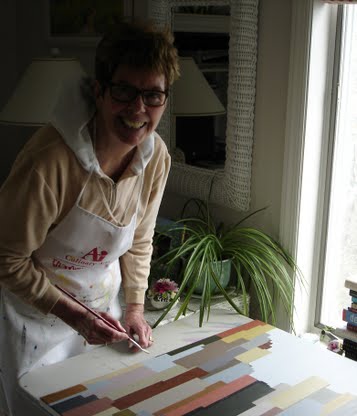 I am fascinated with color.When I create art I am inspired by the energy of color. The ideas for my painting come first and foremost by the colors I see or envision. As the paint goes down on the canvas I can feel the direction the painting is taking by the combination and intermingling of my chosen colors. And for me the colors are always strong and bold.

I am different from some artists in that I create many types of paintings. My colors are my defining signature but the subject matter is not confined to one style. Abstracts, landscapes and still life-I love them all and continue to paint all of them.

I have always enjoyed viewing and making art. The creative process, though at times difficult to achieve to my liking, gives me great satisfaction. I cherish the solitude and the synchronization of hands and mind working together. I love to paint.
Biographical
George Washington University, B.A.
Art Experience and Instruction
Docent, The Contemporary Art Museum, Honolulu, Hawaii
Washington Studio School, Bethesda, MD
Montgomery College School of Art and Design, Rockville, MD
Yellow Barn at Glen Echo, MD
Washington DC (Chevy Chase) Department of Recreation
Montgomery County Department of Recreation
Member, Montgomery Art Association
Member, Friends of the Yellow Barn Studio
Member Falmouth Artists Guild, Falmouth, MA
My art work is in private collections in Connecticut, Florida, Hawaii, Maryland, Massachusetts and Washington State.
My first solo exhibition was held in August 2009, at the Orchard Gallery in Bethesda. I have exhibited at the juried MAA Creative Expressions Exhibit, Friendship Heights Village Center June 2010(Honorable Mention) and 2011(two Third Places), the National Center for Children and Families "Art and Soul" juried show auction at Strathmore Music Center June 2010 and 2011, the Salon Show at Orchard Gallery, March 2011 and art work in a retail store at White Flint Mall, summer of 2011, and at the Women's Club of Chevy Chase Community Art Show for many years. Falmouth Artists Guild, Falmouth, MA Inside Out Abstract Art Show March/April 2012. Chosen by the Ratner Museum, Bethesda, MD to exhibit in a group show March 2015.
Read more about Sharon by Karisa Senavitis, Director of Washington Printmaker Gallery


All artwork © Sharon Doran Callagy. All rights reserved.